CONDE NAST TRAVELLER PARTNERSHIP
Anchored on the southern slope of Ham Rong Mountain, this resort sits atop an ocean of clouds
In the lush ridged valleys of Sapa Vietnam, there is a legend that once upon a time, two dragons fell madly in love and spent their days playing together in the region's secluded hills. One night, a flood engulfed the land, tearing the dragons apart, sending one floating up to heaven and mooring the other to the ground. It is said that the dragon who remained on Earth was petrified, and to this day gazes up at the sky in an infinite search for her lover. Thus Ham Rong Mountain was born – otherwise known as Dragon Jaw – wreathed in orchid gardens, winding trails, crystalline streams and slopes draped in clouds year-round, immersing all who set foot on its ancient terrain in an eco-diverse fantasyland.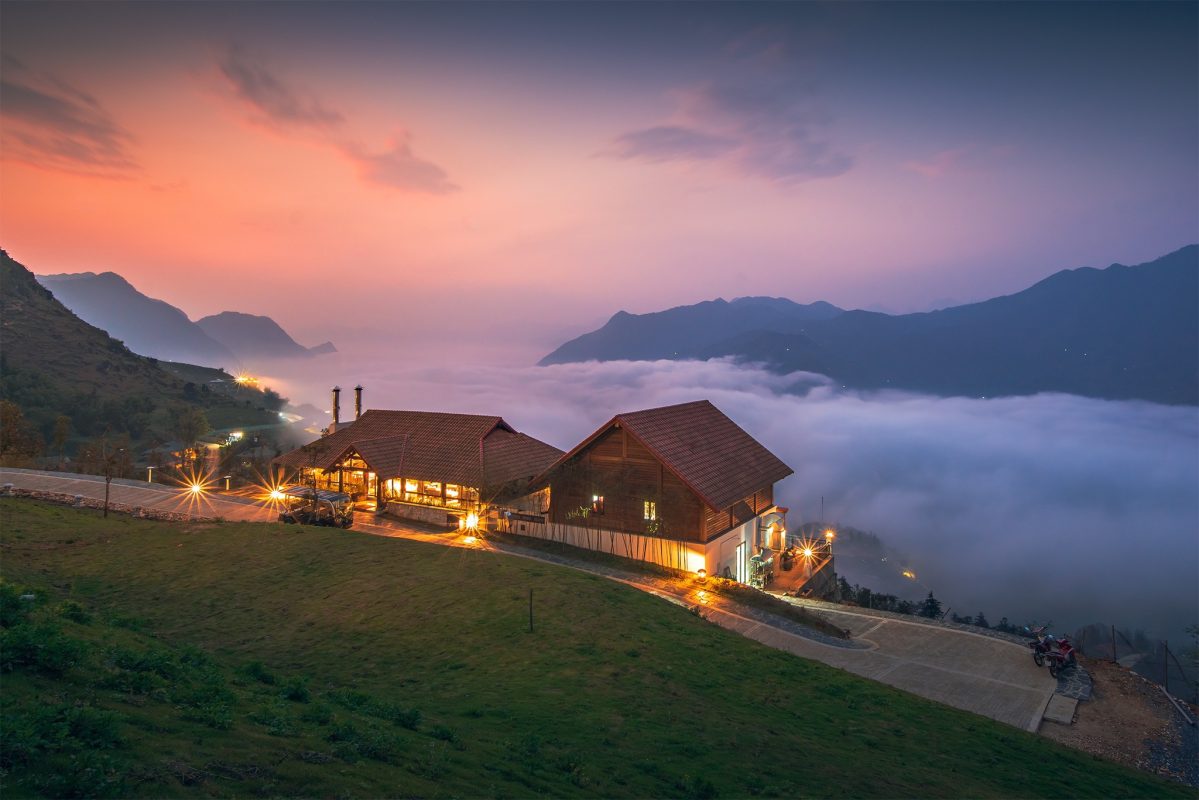 Today, resting on the southern slope of Ham Rong is Ville De Mont Mountain Resort, where the past and the present exist in perfect harmony. The special place is driven by reflection, regeneration and preservation, Ville De Mont was created as a community within a community through a joint dedication to maintain one of the last remaining Cunninghamia forests and to allow visitors to learn from and live alongside local people who have inhabited Sapa for hundreds of years. Comprising hillside villas that honour ancient tradition through a seamless blend of Indigenous and contemporary architecture, the wilderness-engulfed retreat looks over the Muong Hoa Valley, a national heritage area that has long been deemed one of the world's most beautiful agricultural terraces.
Located at an altitude of 5,085ft within a forest of evergreen Cunninghamia trees, Ville De Mont Mountain Resort remains rooted in preserving and celebrating the vitality of the local culture and forest biome. The development philosophy is largely inspired by Indigenous Hmong houses, which have been part of the region's topography for centuries. The villas, many of which include a unique rooftop entrance design that is the first of its kind in Vietnam, have an authentic style that effortlessly blends Indochine architecture with the natural terrain.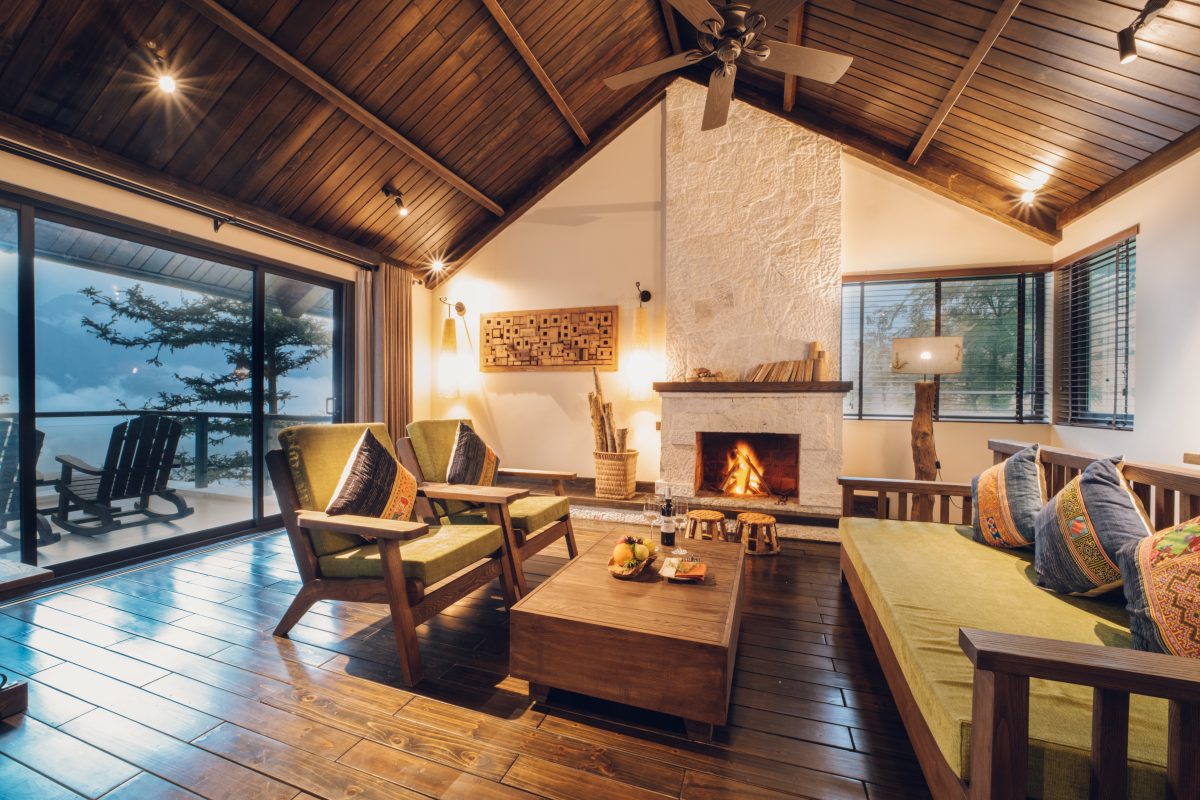 Trekkers, eco-tourists and international travellers seeking a sophisticated experience off the beaten track will revel in this wondrous hideaway. Upon arrival, settle into a villa built entirely from natural materials and enjoy staggeringly beautiful views from your private balcony overlooking rippling fields softly singing with life.
Led by a staff made up of 90 per cent Indigenous people, the abundant activities are designed to immerse guests in their environment, with hiking, cycling and scenic drives through breathtaking passes, terraced fields and picturesque Hmong villages at your fingertips. Make banh giay, time-honoured glutinous rice cakes, take a cocktail-making class using fresh local ingredients or embark on a camping excursion, where your trek is rewarded with a barbecue, wine and live music amid the peach and chayote gardens at the summit. Engage in Ville De Mont's ongoing conservation efforts by planting Cunninghamia pine trees in the gardens, or make natural indigo dye – a craft in which only locally sourced materials and ingredients are used to colour linens and silks. After all of this, you can unwind at Ville De Mont's spa, which has Indigenous remedies including medicine-leaf baths first practised by the Red Dao people, acupressure detox massages and traditional hot-stone treatments.
Ville De Mont's panoramic views are breathtaking at every turn, no matter where you are on the premises – but there is perhaps no better place to take them in than Sapa's highest infinity pool, one of the resort's most desirable features overlooking a valley of clouds. With sustainability and preservation considered in every aspect of Ville De Mont, the pool's water is kept warm through a boiler energy system, limiting smoke emissions. While views of the sweeping landscape can be equally enjoyed from the gym, guests will be more tempted to get their daily dose of exercise by hiking, running or cycling through the rolling hills.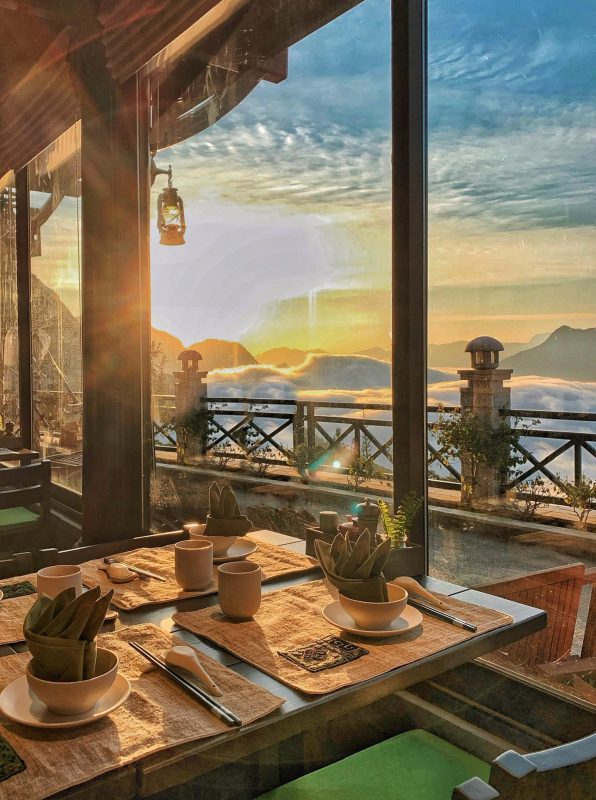 To top off a day of adventure, Ville De Mont's colourful dishes bring your immersive experience full circle, with local ingredients from the north-west mountains woven into inventive courses following ancient Sapa recipes. The resort's culinary team entices guests with hot pots of goodness alongside grilled chicken with mac khen wild pepper, sturgeon, salmon and stream fish on beds of caramelised vegetables, and tender duck with ancient grains.
The rejuvenation experienced in the Muong Hoa Valley is nothing short of ethereal: whether attributed to the soothing effects of the cascading mountains, the heavenly crisp air or the idyllic harmony between centuries-old traditions and practices rooted in preservation. Ville De Mont is a place where the magnificence of the natural world is at its height, and where myths and mountains coexist.
Ville De Mont Mountain Resort is open as of in August 2022. Discover more.
Condé Nast Traveller